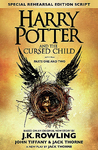 Harry Potter and the Cursed Child - Parts One and Two
by
J.K. Rowling
My rating:
3 of 5 stars
3/5 would read again.
It did feel good to be back to Hogwarts after all these years. I won't proclaim myself as a potterhead but this was my most anticipated book in 2016. I also went to the launch party and queued since the early morning of July 31st to get this book. I didn't read the book straight away, though. There was an anxiety. I was afraid that this book would disappoint
(not to mention that work stuff was also on the way)
, so I delayed reading this.
And when I finally finished this book, there were so many feelings I felt.
OK. So I said before that it did feel good to be back at Hogwarts again.
AND. It felt heartwarming as well. To know that those characters I adore so much are still there, living their life, becoming adults, sending their kids off to school.........
BUT. The entirety of this story is weird to me. I grinned in some parts, hell I even winced. I was hoping for a more adventurous story, but I think this is as adventurous as an epilogue story would be. I have to say that Harry Potter and the Deathly Hallows has a perfect ending, that it is unnecessary to write another epilogue about Harry Potter. Maybe this story works better on stage. I just don't like it written as a book. Or maybe it's just me who doesn't like my favorite characters evolving into more mature characters.
Aside from what is actually inside, the whole
Harry Potter is back
vibe was really nice and I really appreciate it. Thank you, JK Rowling.
View all my reviews